No Comments
The EBA says 31% of FinTech in Europe are not regulated
Team Europe | On 23 September 2017
In the spring of 2017, the European Banking Authority (EBA) began its first attempt to create a map of fintech players in Europe in order to better understand the regulatory framework of the sector.
The results were published in this Discussion Paper. The EBA found that there are more than 1,500 fintech companies in the European Union. They have detailed information about 282 of these, and 31% are not subject to any sort of regulation.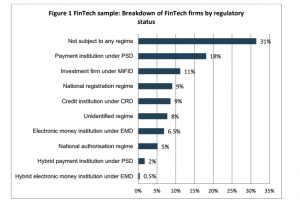 The EBA predicts that investments in fintech will increase in the coming years, as regulatory changes in the EU are expected to facilitate the sector´s development. Some of these changes include the payment directive PSD2 and the introduction of policies for regulatory sandboxes in several countries.
The EBA highlights that 18% of companies are payment institutions regulated by the current payment directive, PSD, and 11% are investment companies under the MiFID (Markets in Financial Instruments Directive). However, 31% are not subject to any EU or national regulations and 14% are only subject to national legislation.
Specifically, of the 31% of fintech companies that are not subject to regulation, the EBA estimates that 33% provide payment services, 20% credit, deposits and raising capital, while 11% provide investment services or investment management.
Six priorities for FinTech regulation
The EBA also identified six priorities for action to avoid the risks of a lack of regulation:
(i) authorization and sandbox regimes
ii) prudential and operational risks for credit institutions, electronic money institutions and payment institutions
(iii) the impact of fintech on these institutions' business models
(iv) consumer protection
(v) the impact of fintech on the resolution of financial companies
(vi) the fintech companies' performance in the fight against money laundering and financing of terrorism
A secure regulatory environment can be a factor in fostering a competitive fintech sector in Europe, which is one of the EU's priorities, as was recently reported by Reuters. The European Commission is currently developing and introducing two regulations that greatly impact financial technology: the PSD2 directive, which regulates the payment sector; and consumer data protection through GPDR (General Data Protection Regulation), which enters into force in May 2018.
---
This article was first published in BBVAnews
Tags
LONDON - 1st February